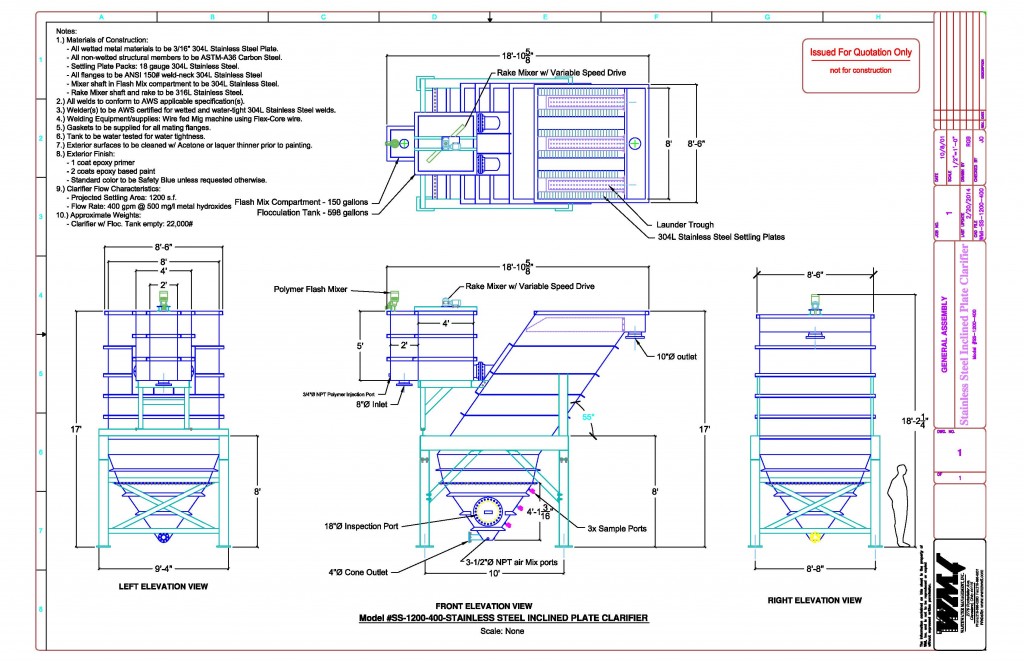 Download "WMI-SS-1200-400" WMI-SS-1200-400-Sales.jpg – Downloaded 501 times – 624 KB
Notes:
1.) Materials of Construction:
– All wetted metal materials to be 3/16″ 304L Stainless Steel Plate.
– All non-wetted structural members to be ASTM-A36 Carbon Steel.
– Settling Plate Packs: 18 gauge 304L Stainless Steel.
– All flanges to be ANSI 150# weld-neck 304L Stainless Steel
– Mixer shaft in Flash Mix compartment to be 304L Stainless Steel.
– Rake Mixer shaft and rake to be 316L Stainless Steel.
2.) All welds to conform to AWS applicable specification(s).
3.) Welder(s) to be AWS certified for wetted and water-tight 304L Stainless Steel welds.
4.) Welding Equipment/supplies: Wire fed Mig machine using Flex-Core wire.
5.) Gaskets to be supplied for all mating flanges.
6.) Tank to be water tested for water tightness.
7.) Exterior surfaces to be cleaned w/ Acetone or laquer thinner prior to painting.
8.) Exterior Finish:
– 1 coat epoxy primer
– 2 coats epoxy based paint
– Standard color to be Safety Blue unless requested otherwise.
9.) Clarifier Flow Characteristics:
– Projected Settling Area: 950 s.f.
– Flow Rate: 300 gpm @ 500 mg/l metal hydroxides
10.) Approximate Weights:
– Clarifier w/ Floc. Tank empty: 20,000#
– Clarifier w/ Floc. Tank full: 60,000#