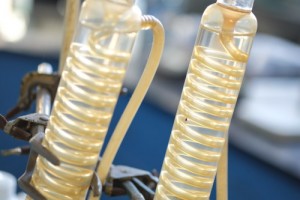 Water and Wastewater Laboratories, Inc. (WWLI) management and personnel are committed to producing accurate analytical results, and have developed a functioning quality assurance program to verify that the data is accurate.  WWLI provides a wide range of analytical services, and we have incorporated all services into our quality assurance program.
The quality assurance program is organized to incorporate a progression of steps that will culminate in the development of a reliable analytical report.  Each step is documented in a manner, which provides for sample tracking, continuous evaluation, and the review of the quality control as it pertains to the performance of the laboratory and individual sample analysis.
The responsibility of Quality Assurance falls on management and staff alike.  From the receipt of a sample to generation of the final report, all personnel take a responsibility for the quality of our service.
Experience
Since the start of our company in 1992 and prior under our parent company, our laboratory has gained invaluable and extensive experience through servicing the analytical needs of the following industrial, municipal, and commercial accounts:
Electroplating and Metal Finishing:
This industry represents our largest client base.  WWLI specializes in servicing the analytical needs of this important industrial sector.  Cleveland alone has approximately 150 such firms.  Over the years we have serviced literally hundreds of these customers in northern Ohio.
In addition to providing routine effluent wastewater analyses for our metal finishing clients, our experience and knowledge of their processes and treatment system unit operations help assist in their ability to comply by providing insight and process trouble shooting assistance when minor problems become apparent.
Field technical assistance is always prioritized should a facility visit become necessary to track or correct operational troubles.
Food Processing:
The nations first biological nitrification system for a slaughterhouse and meat packaging facility was developed and implemented from our laboratory in the late 70's.
Cheese manufacturing firms and their wastewater are another specialty of our laboratory, having serviced the largest independent cheese maker in the State in Brewster, Ohio, and one of the largest independent cheese manufacturers in the Country.  In addition to providing standard NPDES testing, we are also called upon by such firms to diagnose and correct biological process problems when they develop.
Consulting and Engineering Firms:
Although WWLI is owned by a firm which provides wastewater treatment system engineering and design services, a major client base is Consulting Engineering and related environmental firms.  Such firms' clients are held in the strictest of confidence.
WWLI provides a full line of analytical services for this field including basic parameter testing and field sampling services.  Additionally, in our fields of expertise many firms rely on us for process design through bench scale jar test services or completion of much larger pilot plant studies.
WWLI has developed and continues to service, engineering client firms from all over the country.
Municipal Agencies:
Over the years, WWLI has serviced many municipal and other governmental agencies in their analytical and related project needs.
Service work has included sampling and analytical work at industrial categorical concerns for baseline monitoring and development of local pretreatment programs, continuing analytical monitoring to insure program-compliance, facilities-plan sampling and analyses for the expansion of local sewerage systems, and pilot plant studies for the upgrade and modification of drinking water filtration plants.
Process and Materials Testing:
This is a growing area at our facility. We have been developing good rapport and gaining valuable experience with industries needing production analysis.  Our Laboratory routinely analyzes production compounds and chemicals for quality control monitoring and investigative determinations.  Among this group of clients are plating facilities, salt processing facilities, metal recovery, and production chemical facilities.  We provide "Certificates of Analysis", and "Composition Reports".
Our Facility:
Located between Downtown Cleveland, Ohio and the Industrial Flats our 9500 sq. ft. facility holds our Laboratory and offices.  Over the years our staff has become experienced in standard analytical methods and developed methods to diversify into new areas.  We have grown in the past 25 years and have become experienced in many facets of analytical services.
Overview of our Laboratory
Organic Analysis– GC, GC-MS department
Metals Analysis– AA, ICP department
Inorganic Analysis including:
Full wet chemistry services utilizing: ultraviolet, visible, and infrared spectroscopy; total organic carbon on liquids and solids; pH, ORP, selective ion, conductivity, turbidity and dissolved oxygen meters
RCRA characteristics:
The equipment to perform the RCRA characteristics: reactivity, corrosivity, ignitability, and toxicity
Bacteriological Analysis
Our Staff
With combined years of experience amounting to over a century and a-half.
Certifications
NPDES Quality Assurance Certification
As part of our analysis for direct discharges we partake in and comply with the annual     DMR-QA Studies.

Our EPA Laboratory I.D. Code is: OH01127
Ohio Water Environment Association Certification for Analysts
Our Laboratory personnel are certified wastewater analysts.

Laboratory Technicians are Level I or higher
Chemists are Level III or higher

Our Laboratory Manager is a Class IV Analyst:

Certification Serial# 4-93-14

Our Quality Assurance Officer is a Class IV Analyst:

Certification Serial # 4-01-01